Thailand, just the name conjures up images of temples covered in gold along with majestic elephant striding down tree lined boulevards. Kings and emperors riding in jewel encrust hawdahs. Thailand still has her elephants and is still ruled by her king. She is a land of mystery and magic as well. Food and modern amenities are here now too. People flock from the 4 corners of the earth to partake of this and the sights and sounds of this modern trading city on the edge of the Pacific Rim. Today, you will be exposed to 10 of the many thousand points of interest and though it will be a short showcase you will get a taste of what awaits you here in a piece of paradise placed here on earth and watched over by the gentle Thai people.
10. Ayutthaya Ayutthaya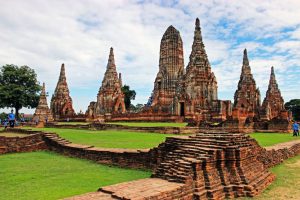 once this was the former capital of Thailand, which was destroyed, buried and long forgotten Massive temples, ruins from Thailand's past as well as many cultural artifacts were thought lost forever. However, today this UNESCO World heritage site has been uncovered and now you can stand in awe looking at relics of the bygone age of South East Asian Empires. One item of particular interest is the Buddha head peering out from the heavy undergrowth that totally encloses everything except his face. The uncovered city is located just a short distance from the current capital. It is a site that once visited, will haunt your memory forever.
9. The Floating Market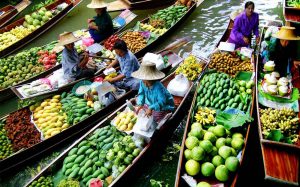 Here in Damnoen in western Thailand, you have the famous Floating Market. You can buy souvenirs, fresh produce, and other items that have to be seen to be believed. The cost to tour the market is reasonable, as you need to travel the market by boat. You can have a light lunch of Thai noodles or visit one of the many restaurants that line the waterway. Taste the local food and see one of the most active markets in Thailand. Shop until you drop, but don't fall in the river.
8. Chiang Mai Night Market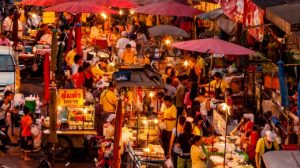 To really appreciate the cultural diversity of Thailand you must visit another of Thailand's famous markets. Held on Sunday nights you can meet people from all over the world. You might even get that one of a kind gift as well. You also can sample Thai Street food, which is some best and comes in more varieties than you can try in a month of visits to these vibrant and exciting shopping attractions in Chiang Mai City. Restaurants are also nearby for your dining pleasure as well. Come meet the world and have fun bargaining the Thai way. Bring cash and use Baht instead of dollars. Don't worry the banks and ATMs are open for your convenience.
7. Elephant Nature Park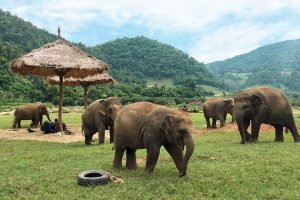 Near Chiang Mai City is another must see attraction of Thailand. If you have ever wanted to meet an elephant, now's your chance, here old and mistreated work elephants that have been rescued now live. Young and old alike will enjoy being near these gentle giants of the forest. The park is also home for a large variety of other animals, both furred and feathered. All are unfettered and roaming free in a natural environment. You can spend a day seeing the sites and being with the animals. This is a great way to teach your children about nature and the world we live in.
6. Tiger Kingdom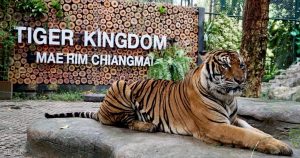 The tiger is the most beautiful and deadly of all of the big cats. It can weigh over 200 lbs. They are probably the most deadly predator on earth. (Besides Man) But here you can pet and frolic with an animal that has one of the most ferocious reputations in all of Asia and the world. Just a short distance from Chiang Mai City, nestled near the town of Mae Rim, is the home to these big cats. These are not pets. You can under expert supervision meet and interact with them. Here you spend a day that you and your family will never forget.
5. Bo Sang – Umbrella Village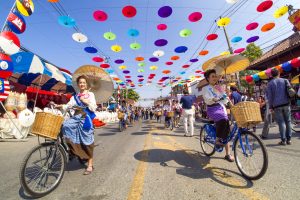 Also near Chiang Mai City is a little village where color, Asian fashion, and function mix in a kaleidoscope of patterns and images. Bamboo umbrellas have long been used in Asia. They keep off sun, rain, and provide a fashion statement as well. Virtually any color you can imagine can be found here. Pictures ranging from floral scenes or your favorite pop star can be found here as well. Handmade in the traditional Thai fashion you can view an art form that dates back centuries that is both beautiful and practical as well.
4. Koh Lanta island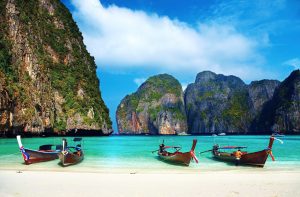 You know about Phuket and the other major Thai beaches. These beaches are some of the most famous in the world. But they are often noisy and crowded. To try something different here is an island where you can often have a long strip of pristine white sand all to yourself. Bamboo Beach is just one of the beaches here and if you like you can find accommodations with full amenities just a short distance away. Sun, Sand, and Sea are all here for you to enjoy. Come to a place where life moves at a slower pace so you can enjoy life again.
3. Phang Nga Bay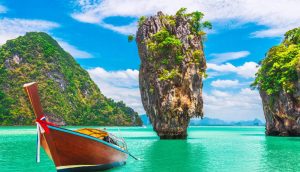 You may not recognize the name. But if you hear the names James Bond, Roger Moore and the movie "The Man with the Golden Gun", you are immediately transported to a place that has unusual rock formations as well as beautiful sun drenched beaches. But you don't have to worry about spies nowadays. Instead, you can enjoy a holiday like no other. Near Phuket Island, you can get away for a boat tour, visit fishing villages, and laze about white sands. The fisher villages serve fresh seafood for a snack, lunch, and dinner when you visit. What better way to spend a few days then by frolicking by the seaside in a place that is just a step away from paradise.
2.The Grand Palace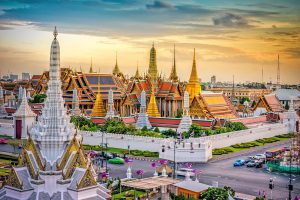 Home to the kings of Siam and later Thailand since 1782, this magnificent structure is one of the great architectural wonders of the world. You can see it gleaming at sunset and by taking a river cruise past it you can see it lit up for you that invokes memories of Yul Brenner and "The King and I." Tours are available for your pleasure and it is one of the scenic spots you must see before you die. The temple of the Emerald Buddha is one of the great cultural treasures and is not to be missed. You might even catch a glimpse of the King himself as the complex is an active part of the Thai government today. If there is only one thing you have time to see on your visit here. This is it.
1.The City of Bangkok Itself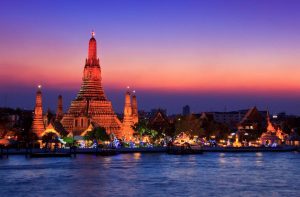 How can mere words encompass the grandeur of this ancient and yet modern metropolis, Bangkok is home to a thousand golden temples. Walking tours, Foodie tours, and even Chef's tours highlight your stay. See a city that was old when America was new. Cultural treasures are everywhere and the Thai people are some of the friendliest in the world. So, for fun, food, and scenic wonders, you could spend a lifetime here and still not tap all that there is to see and do here.
Thailand is truly a paradise on earth. Here you have jungle, hidden cities from the past. Yet it is also a modern, thriving county that is one of the linchpins of the Pacific Rim. Today, you've only gotten a hint of what is to be found here with our 10 points of interest. There is so much more for you to see, taste, and experience here. Visit once and you will be enchanted and come back time and time again. Magic is still in the world and Thailand is a place where it is still seen, felt, and enjoyed.