Temples in Siem Reap are known to attract a lot of visitors yearly. There are approximately fifty Hindu and Buddhist temples and most of structures have collapsed and even covered in greenery. A full-day excursion is what is needed to explore these temples and what you are required to do is to purchase Angkor Pass that is only price at $20 which is for one-day pass and if you want three-day pass, your ticket will be $40 and for the whole week or seven days, it will only cost you $60. These are Top 10 Must Visited Temples in Siem Reap.
10. Koh Ker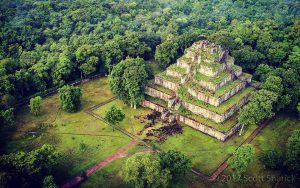 The Angkor is the largest temple followed by this one and it is believed to be the capital of Khmer empire back in 928AD and 944AD. Its stairway found on top is really breathtaking but it is only accessible to few visitors. The place is less visited because it will take you more than two hours to reach here. It has spanning thirty six meters in height.
– Price range: $5
– Religion: Hindu
9. Prasat Bantaey Srei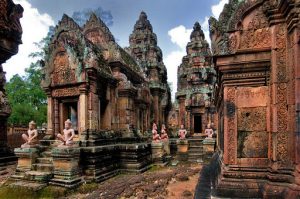 This construction is fitted with pink sandstones as well as 3D carving of scenes which are seen from Ramayana epic and you'll also see female deities who are in traditional attire and are carrying lotus flowers on hand. It will only take you an hour when you board taxi to reach here. The walls have been covered with intricate carvings and each of them is carved with superb detail. The detailed carving of lintels, sculpture and friezes is what make this building aesthetically pleasing.
– Religion: Hindu
– Opening hours: 05:00 – 17:00
8. Phnom Bakheng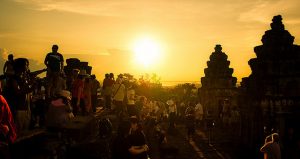 This is a temple mountain which represents Mount Meru and its home of Hindu gods. It has imposing height and also narrow stairway and its popular for sunrise as well as sunset viewing is you're tourist. The hilltop location will offer you chance to view surrounding countryside. It is popular at dusk and there is sometime where this site can be crawling with tourists.
– Religion: Hindu
– Opening hours: 05:00 – 17:00
7. Terrace of the Elephants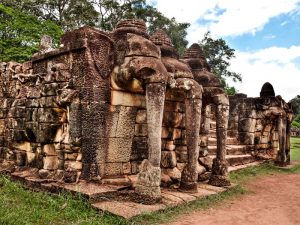 What you'll find here is beautiful bas-relief scenes of garudas and elephants making this site the most photographed site in Siem Reap. King Jayavarman VII utilizes this site as viewing platform for the public ceremonies. It has striking terraces which measures 300 meters in length and it is 2 ½ meters in height. It has been fitted with sculpture of 5 headed horse, Khmer warriors and Apsara dancers.
– Religion: Buddhist
– Building style: Bayon
6. Preah Khan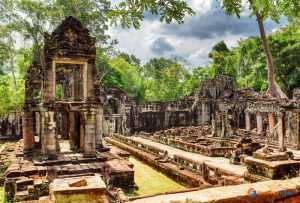 This construction was dedicated by Jayavarman VII in 1991 to his father and the building houses maze-like entryways, shrines, courtyards, ceremonial spaces and towers. The standout of this construction has 2-storey pavilion as well as hall of dancers and you can see images of Apsara dancers on the pillars. It is found northeast of Angkor Thom. There are numerous trees, vegetation and vine growing in the building and you can watch the temple collapsing.
– Religion: Buddhist
– Building style: Bayon
5. Ba Phuon Temple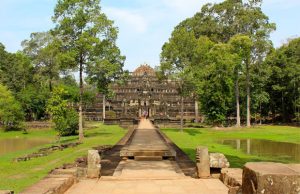 This is three-tiered temple mountain which was constructed in respect of Hindu God Shiva. It is found in northwest of Ba Yon Temple and features pyramid-like shape which is architectural representation of the known mythical Mount Meru. There have been several restoration attempts but none of them have succeeded and this building collapsed by 20th century. At the entrance to central sanctuary, you will find unique animal carvings.
– Religion: Hindu
4. Ta Prohm Temple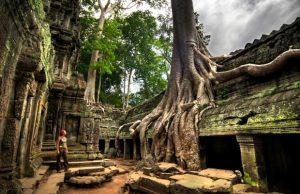 This temple has been features in game tomb raider as well as movie which make it gain international recognition. King Jayavarman VII constructed this temple in commemoration of his mother. It is fitted with 600 rooms, galleries, courtyards and houses more than 70,000 people and most of them are dances, assistants, high priests, monks and laborers. It is now covered by huge trees and also hanging vines and you can discover the old temple getting into the jungle!
– Religion: Buddhist
3. Bayon Temple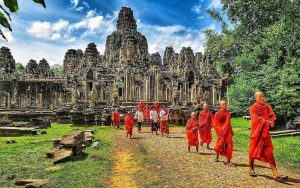 This temple is known for its fifty stone towers coupled with 4 faces of Bodhisattva valokiteshvara which were carved on most of them. Its construction is dated back in 12th century. It has serene expression and the stone carvings are very easy to recognizable structures of Khmer kingdom. The four faces are 4 meters in height and are oriented toward the 4 point of compass. It features bas-relief scenes of markets, battlefields, cockfighting and religious rituals.
– Religion: Buddhist
2. Angkor Thom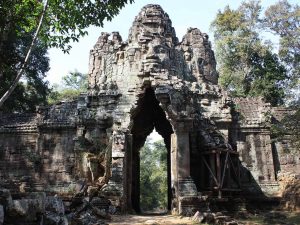 It is also known as Big Angkor and the person who constructed it is King Jayavarman back in 1181 to 1219. You will get here are beautiful constructions which are really breathtaking. It has five huge entrance gates where you need to pass through and each gate has been topped by 4 giant faces. This site features famous temple of Bayon plus other important sites.
– Religion: Buddhist
1. Angkor Wat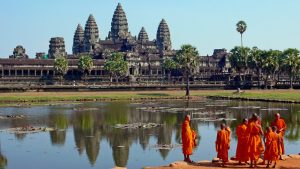 You'll find this temple within the Angkor archeological park and in 1992; this building was ranked as UNESCO world heritage site. In 12th century, the Angkor Wat was constructed to worship Lord Vishnu. It stands 65 meters tall and has 2,000 stone carvings of Apsaras and along the sides of this construction; you will find detailed bas reliefs which are mainly showing epic Hindu stories. It has moat as well as outer wall which stretch for up to 3.6km. What you can do in this temple is to climb to top and look out over whole site from there.
– Opening hours: Open from 05:00 to 18:00
– Religion: Hindu
You can do yourself a favor by trying to visit these temples and see their amazing features. These top 10 must visited temples in Siem Reap are really breathtaking and you'll find a lot of things to do. If you are tourist and you don't know where to visit this coming holiday, you better put these places in your list and you will notice a lot of things which will remain in your memory. Don't look at their photos which are interesting, go there and see them with your own eyes!